For full access to both coding platforms and other features in SAM Studio, you will need a subscription. If you do not already have a SAM Studio subscription with your school or district, you can register for one here.
You will receive an email with your subscription details when you purchase a subscription. Your subscription code is needed in order to set up your account.
To set up your SAM Studio account:
Navigate to studio.samlabs.com and click the 'Create Account' button at the bottom of the page.
You have the option to sign up with Google, Microsoft, or by entering your email and creating a password. Read and accept the terms of service, then choose the sign up method that works best with your school email address.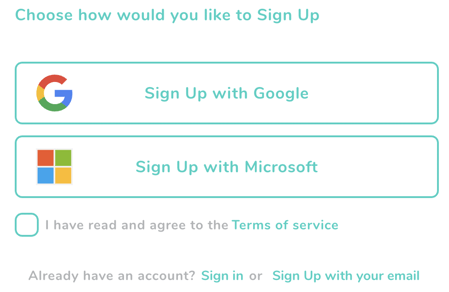 Once you authenticate your account (Google/Microsoft), or verify your email address (Email), you will be brought to the next page to set up your account details.
Enter your name, select whether you are a teacher or a student, then enter your subscription code (Teachers) or class code (Students).
Your account will be pending until you are admitted to the subscription by SAM Labs (or for Students, until you are admitted to your class by a teacher). This process is meant to verify users and prevent unauthorized accounts from accessing your subscription/class. Verification should take no more than one day. If you haven't been admitted to your subscription after more than a day, contact support@samlabs.com for assistance.
For more information about signing up and signing in as a teacher, check out this FAQ article.